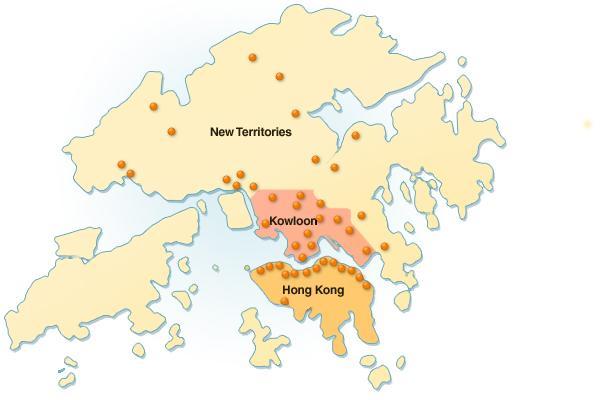 | | | |
| --- | --- | --- |
| | | With our BComBEST Private Centre |
| | | With our BComBEST Service Centre |
| | | With Safe Deposit Box Services |
| | | With ATM(Support Voice Navigation function) |
| | | With elevator |
| | | With wheelchair ramp |
| | | With hearing loop system |
| | | With wheelchair users direct access ATM |
Service Hours of our outlets
Mon - Fri : 9:00a.m. - 5:00p.m.
Sat : 9:00a.m. - 1:00p.m.
(For more details on the latest service hours and ATMs service for our outlets, please refer to Hot News.)
Customer Service Hotline: (852) 223 95559
Barrier-free Facilities
All outlets welcome guide dogs and are equipped with barrier-free facilities, such as hearing loop system and doorbell, in which some are equipped with elevator and wheelchair ramp, for those in need.
Outlet




Address

Business Department

Unit B B/F & G/F, Unit C G/F, Wheelock House, 20 Pedder Street, Central, Hong Kong

  

North Point Branch

Shops Nos. 1-4 on G/F., Maylun Apartments, 442-456 King's Road, North Point, Hong Kong

North Point (Temporary) Branch

Portion B of Shop 13, G/F, King's Tower, No. 480 King's Road, North Point, Hong Kong
(Note: Non-Cash Counter Transactions Provided)
 

West Point Branch

G/F., 327-333 Queen's Road West, Hong Kong

  

King's Road Branch

G/F, Kailey Court, 67-71 King's Road, Hong Kong

  

Wanchai Branch

Shop B on G/F., Johnston Court, 32-34 Johnston Road, Hong Kong

  

Taikoo Shing Branch

Shop 38, G/F., CityPlaza 2, 18 Taikoo Shing Road, Hong Kong

  

Chaiwan Branch

G/F., 121-121A Wan Tsui Road, Chai Wan Cinema Building, Chaiwan, Hong Kong

  

Quarry Bay Branch

Shops 2, G/F., No. 1001 King's Road, Quarry Bay, Hong Kong

  

Hennessy Road Branch

G/F., Bank of Communications Building., 368 Hennessy Road, Hong Kong

  

Kennedy Town Branch

G/F., 113-119 Belcher's Street, Kennedy Town, Hong Kong

  

Central District Branch

G/F., Far East Consortium Building, 125A Des Voeux Road C., Central, Hong Kong

  

Aberdeen Branch

Shop 3, G/F, 2/4 & 14/16 Nam Ning Street,




Aberdeen Centre (Site 4), Aberdeen, Hong Kong

  

Shau Kei Wan Branch

Shop 2-3, G/F., Tung Fai Building, 161-165 Shau Kei Wan Main Street East, Hong Kong

Back to the top
| Outlet | Address | |
| --- | --- | --- |
| Kowloon Branch | G/F., 563 Nathan Road, Kowloon |    |
| Shamshuipo Branch | Shop G1-G3, G11-G13, G19-G21, G/F., Golden Centre, 94 Yen Chow Street, Sham Shui Po, Kowloon |    |
| Mongkok Branch | G/F and 1/F, Shun Wah Building, Nos. 735 & 735A Nathan Road, Mongkok, Kowloon |    |
| Kwun Tong Branch | Shop E, Block G & H, G/F, East Sun Industrial Centre, 16 Shing Yip Street, Kwun Tong, Kowloon |    |
| Lam Tin Branch | Shop No. 5 & 9, G/F., Kai Tin Towers, 51-67C Kai Tin Road, Lam Tin, Kowloon |    |
| Hunghom Branch | Shop A6, G/F., Whampoa Estate Planet Square, 1-3 Tak Man Street, Kowloon |    |
| Jordan Road Branch | 1/F., Booman Building, 37U Jordan Road, Kowloon |   |
| Tokwawan Branch | Shop 1-3, G/F., Ocean Mansion, 370-376 Ma Tau Wai Road, Tokwawan, Kowloon |    |
| Tsim Sha Tsui Branch | Shop Nos. 1-3 on G/F., CFC Tower, 22-28 Mody Road, Tsimshatsui, Kowloon |    |
| Cheung Sha Wan Plaza Branch | Unit G04 on G/F., Cheung Sha Wan Plaza, 833 Cheung Sha Wan Road, Kowloon |    |
| Ngau Tau Kok Branch | Shop E1 & Portion of Shop D, G/F, Lee Kee Building, No. 55 Ngau Tau Kok Road, Kowloon |    |
| Wong Tai Sin Branch | Shop N118, 1/F, Temple Mall North, 136 Lung Cheung Road, Wong Tai Sin, Kowloon |    |

Back to the top
Outlet

Address

Kwai Chung Branch

G/F., 93-99 Tai Loong Street, Kwai Chung, New Territories

  

Tsuen Wan Branch

G/F., 240-242 Sha Tsui Road, Tsuen Wan, New Territories

Nina Tower Wealth

Management Centre

Suite 2304 on 23/F, Tower 2, Nina Tower, No. 8, Yeung Uk Road, Tsuen Wan, New Territories

Service Hours

Mon - Fri : 11:00a.m. - 7:00p.m.

Sat : 11:00a.m. - 3:00p.m.

(Note: Non-Cash Counter Transactions Provided)

 
Yuen Long Branch


Shop 2B, G/F, Man Yu Building, 2-14 Tai Fung Street, Yuen Long, New Territories

  

Market Street Branch

G/F., 49-55 Tsuen Wan Market Street, Tsuen Wan, New Territories

  

Tuen Mun Branch

Shops 7-8 on G/F, Castle Peak Lin Won Building, 2-4 Yan Ching Street, Tuen Mun, New Territories

  

Kwong Yuen Estate Branch

Shop Nos. 1 & 2, G/F., Commercial Block 2, Kwong Yuen Shopping Centre, Kwong Yuen Estate, No. 68 Siu Lek Yuen Road, Shatin, New Territories

Tai Po Branch

Shop No. 1, 2, 26 & 27, G/F., Wing Fai Plaza, 29-35 Ting Kok Road, Tai Po, New Territories

    

Sha Tsui Road Branch

Shops Nos. 3-5 on G/F., Kwong Ming Building, 120-130 Sha Tsui Road, Tsuen Wan, New Territories

  

Sheung Shui Branch

Shops 1010-1014, G/F., Sheung Shui Centre, Sheung Shui, New Territories

  

Tseung Kwan O Branch

Shop Nos. 252A, 252B & 253 on Level 2, Metro City Phase I, Tseung Kwan O, New Territories

  

Ma On Shan Branch

Shop Nos. 303-304, Level 3, Ma On Shan Plaza, 608 Sai Sha Road, Ma On Shan, New Territories

  

Fanling Branch

Shop No. 84A-84B, G/F., Flora Plaza, Fanling, New Territories

 

Tin Shui Wai Branch

Shop No. G72, G/F, +WOO (Phase 1), 12-18 Tin Yan Road, Tin Shui Wai, New Territories

 

Shatin Branch

Shop Nos. 8D, 8E and 8F, Level 1, Shatin Lucky Plaza, Nos. 1-15 Wang Pok Street, Shatin, New Territories

  

Shatin City One Branch

Shop 188, 1/F., Fortune City One, City One Shatin, New Territories

  

Tiu Keng Leng Branch

Shops Nos. L2-064 and L2- 065, Level 2, Metro Town, Tiu Keng Leng, New Territories

  

Sam Shing Estate Branch

Shop No. 4, G/F., Moon Yu House, Sam Shing Estate, 6 Sam Shing Street, Tuen Mun, New Territories

Back to the top
SME and Personal Lending Services

Address

SME Banking Centre (Island East)/
Personal Lending Centre (Island East)

7/F, KP Tower, 93 King's Road, North Point, Hong Kong

SME Banking Centre(Kowloon East)/
Personal Lending Centre (Kowloon East)

Unit No. 5 on 12th Floor of Tower A, Hung Hom Commercial Centre, No. 39 Ma Tau Wai Road, Kowloon

Back to the top
Corporate Banking Service

Address

Global Banking

25/F, New World Tower 1, 18 Queen's Road Central, Central, Hong Kong

Service Hours
Mon - Fri : 9:00a.m. - 5:00p.m.

(Note: No Counter Services Provided)

Corporate Banking

20 Pedder Street, Central

Service Hours
Mon - Fri : 9:00a.m. - 5:00p.m.

(Note: No Counter Services Provided)

Commercial Banking

10/F, No. 77 Gloucester Road, Wanchai, Hong Kong

Service Hours
Mon - Fri : 9:00a.m. - 5:00p.m.

(Note: No Counter Services Provided)

Commercial Centre (Kowloon)

Suite 604-611, 6/F, Tower 6, Gateway, Tsimshatsui, Kowloon

Service Hours
Mon - Fri : 9:00a.m. - 5:00p.m.

(Note: No Counter Services Provided)

Commercial Centre (Hong Kong Island)

16/F and 18/F, Lee Garden Five, 18 Hysan Avenue, Causeway Bay, Hong Kong

Service Hours
Mon - Fri : 9:00a.m. - 5:00p.m.

(Note: No Counter Services Provided)

Institutional Banking

Suite 604-611, 6/F, Tower 6, Gateway, Tsimshatsui, Kowloon

Service Hours
Mon - Fri : 9:00a.m. - 5:00p.m.

(Note: No Counter Services Provided)

Trade Finance

Suite 604-611, 6/F, Tower 6, Gateway, Tsimshatsui, Kowloon

Service Hours
Mon - Fri : 9:00a.m. - 5:00p.m.

(Note: No Counter Services Provided)

Structured and Capital Finance

Room 2901, 29/F of Prosperity Tower, 39 Queen's Road Central, Hong Kong

Service Hours
Mon - Fri : 9:00a.m. - 5:00p.m.

(Note: No Counter Services Provided)

Belt & Road and Greater Bay Area Finance Department

20th Floor, Henley Building, 5 Queen's Road Central

Service Hours
Mon - Fri : 9:00a.m. - 5:00p.m.

(Note: No Counter Services Provided)

Back to the top
| Offsite ATM | Address | |
| --- | --- | --- |
| Ma On Shan Plaza | Shop Nos. 2122-2123, Level 2, Ma On Shan Plaza, 608 Sai Sha Road, Ma On Shan, New Territories | |

Back to the top